Plans for the widespread closure of ticket offices go "too far, too fast", cross-party MPs have warned.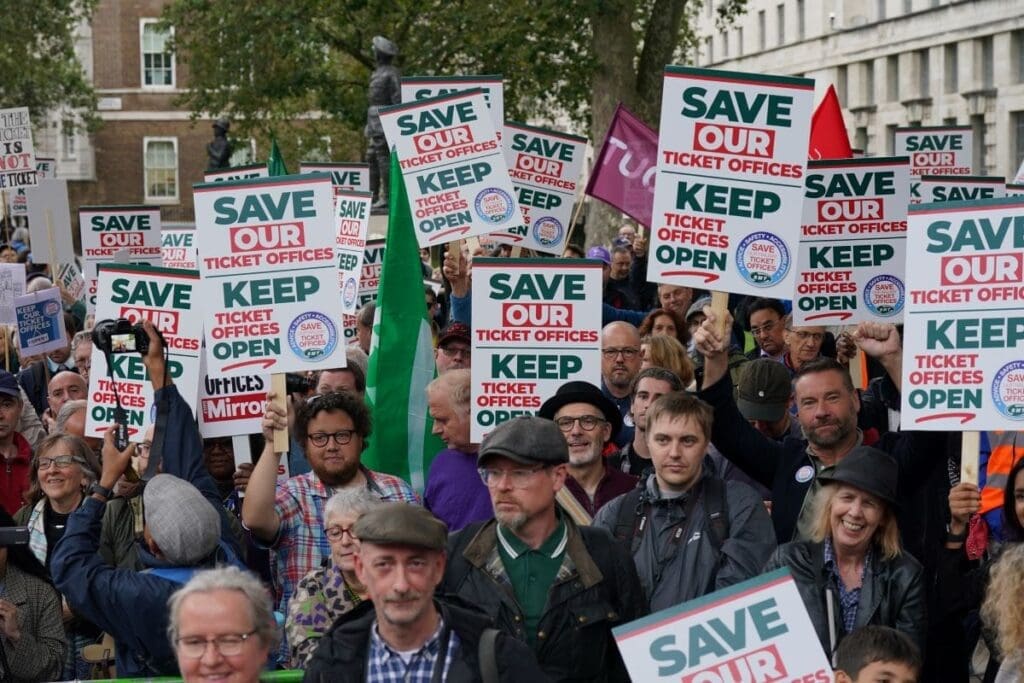 The Commons Transport Committee has written to rail minister Huw Merriman to express its concerns around ticket office closures, particularly the impact on disabled passengers.
Ticket offices across the country face closure under controversial plans that unions and campaigners say will lead to job losses and difficulties for passengers such as the elderly and disabled in paying for travel.
The plans have been subject to controversy and protest since they were announced in July.
In the letter, dated October 20 and signed by Conservative MP and committee chair Iain Stewart, MPs also express concern about the "unacceptable" lack of information about the proposals from operators, the Rail Delivery Group and the Department for Transport.
Mr Stewart told the minister: "We therefore consider that the proposals as put forward by train operating companies in this consultation go too far, too fast, towards a situation that risks excluding some passengers from the railway.
"At a minimum, changes this radical should be carefully piloted in limited areas and evaluated for their effect on all passengers before being rolled out.
"This would allow for the alternative proposals, which at present are too vague, to be properly understood."
The letter notes that while it is acceptable for operators to adapt to changing passenger behaviour, many passengers have "legitimate concerns about whether closing a ticket office would remove the support they need".
Mr Merriman is expected to respond to the letter in due course.
A Department for Transport spokesperson said: "While these are industry proposals, we have been consistently clear that the industry must ensure that the quality of service for passengers is maintained to a high standard.
"The public consultation has now closed and independent passenger representatives will review the responses with train operating companies shortly."
A spokesperson for Rail Delivery Group said that it would "continue to engage with accessibility and safety groups".
They said: "In preparing these proposals, train companies drew on experience from the 42% of stations that do not currently have ticket offices, and worked with customers and accessibility groups to ensure that all passengers are supported.
"While implementation plans have not yet been agreed, the industry understands the importance of the feedback received, and will continue to work closely with Transport Focus and London TravelWatch throughout the process. This includes exploring the potential for using a phased approach to introduce changes, with regular review points to assess how well they are working.
"During evidence to the Transport Select Committee (TSC), train companies explained that they would continue to evolve their plans. The proposals will see staff with additional training out into ticket halls and concourses to provide face-to-face support with a whole range of needs, and no station currently staffed will become unstaffed."