The Severn Valley Railway has revealed that Class 58 No 58023 will make its first-ever appearance in preservation at the SVR's forthcoming Spring Diesel Festival between 18th and 21st May.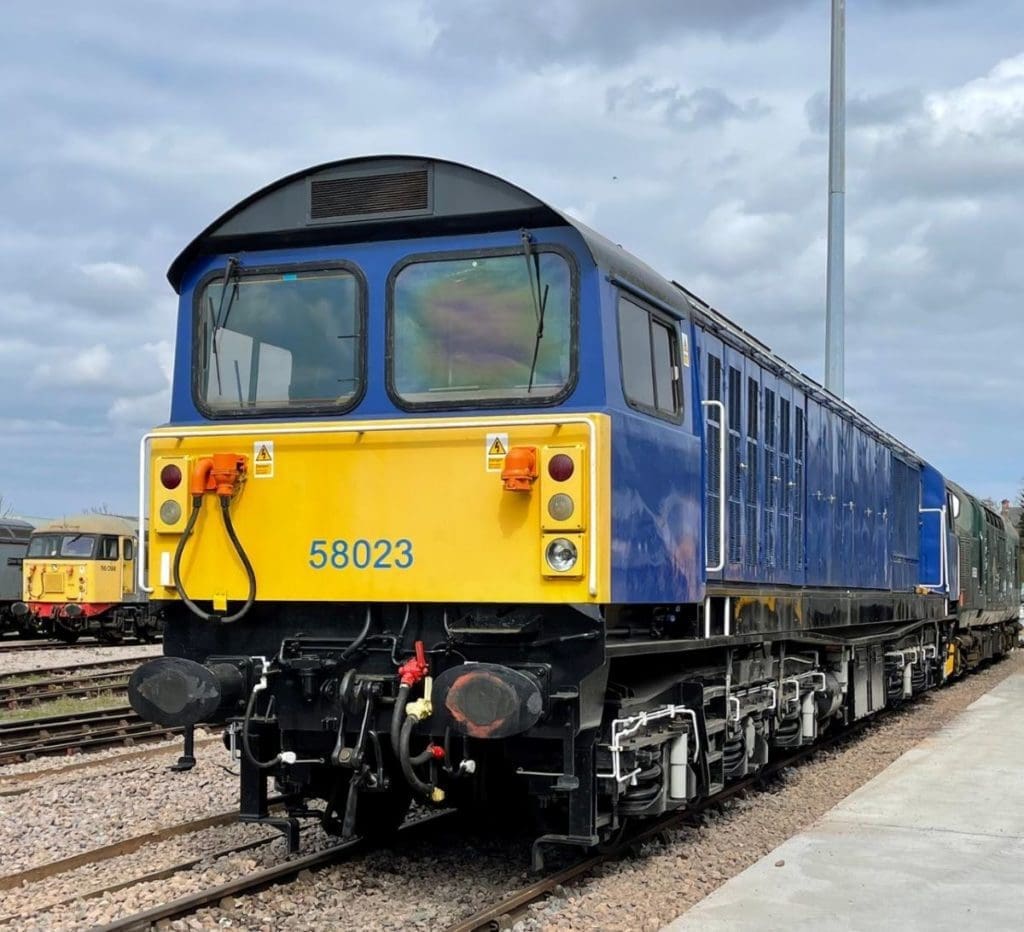 The visitor is bound to cause a stir as no Class 58 has been seen in operation in Britain since the withdrawal of the entire class in 2002.
The locomotive is the first of a host of special guests being lined up for what the railway promises will be a Diesel Festival on a scale that's "never been seen before". It's bringing together up to 13 classes of heritage locomotives and an extensive fleet of visiting modern diesel types to celebrate 50 years of diesels in preservation.
"We're pulling out all the stops for this event," said Jonathan 'Gus' Dunster, the SVR's interim managing director. "It's hard to believe, but the heritage sector has now achieved 50 years of diesels in preservation, and we think that's something to celebrate. Securing 58023 is a real coup – this loco is going to be an absolute cracker at our event and we're extremely grateful to its owner Ed Stevenson for agreeing to its first appearance in preservation for the SVR's special celebrations."
A total of 50 Class 58s were constructed by BR between 1982 and 1986, for use on power station coal traffic. They were all withdrawn by 2002, although several found further use in mainland Europe particularly in France and Spain, where they were deployed working construction trains on new high-speed lines. Their unusual narrow body shape with a cab at each end led to them being nicknamed 'bones' by rail enthusiasts.
Alongside the visiting Class 58 will be the SVR-based Class 42 D821 'Greyhound', which secured its place in history as the first diesel locomotive to appear in preservation 50 years ago.
Article continues below…
Advert
D821 was purchased from British Rail by the Diesel Traction Group in 1973, and following a series of different homes, arrived at the SVR in 1991 where it's been based ever since. 'Greyhound' has recently undergone extensive bodywork repairs and is reappearing at the Diesel Festival in BR monastral blue with full yellow ends.
"It's fitting that the loco that started it all is going to be at this special event," said Gus. "And, we'll also be showcasing the SVR-based newly overhauled and repainted Class 33 No 33108. Altogether we're aiming to have 13 different types of heritage diesel locomotives operating. Then, thanks to the amazing support of a host of main line operators, including Colas, GBRailfreight and Locomotive Services Group, we'll also be assembling an enviable collection of modern diesel traction.
"The SVR's Spring Diesel Festival will bring together the widest range of operational diesel locomotives ever assembled on a heritage railway. It's going to be on a scale that's never been seen before. We can't think of a better way to celebrate 50 years of diesels in preservation!"
Article continues below…
Advert
Tickets for the four-day, intensively-timetabled Spring Diesel Festival are available now at svr.co.uk, including money-saving multi-day tickets. Further guest announcements will be made in due course.