David Lindsell returns with final instalment of his three-part series covering the history of the Ludgershall branch. This covers other special trains, engineering trains and maintenance specials, redundant stock storage, and preservation, along with a report on a depot visit that took place in 1998.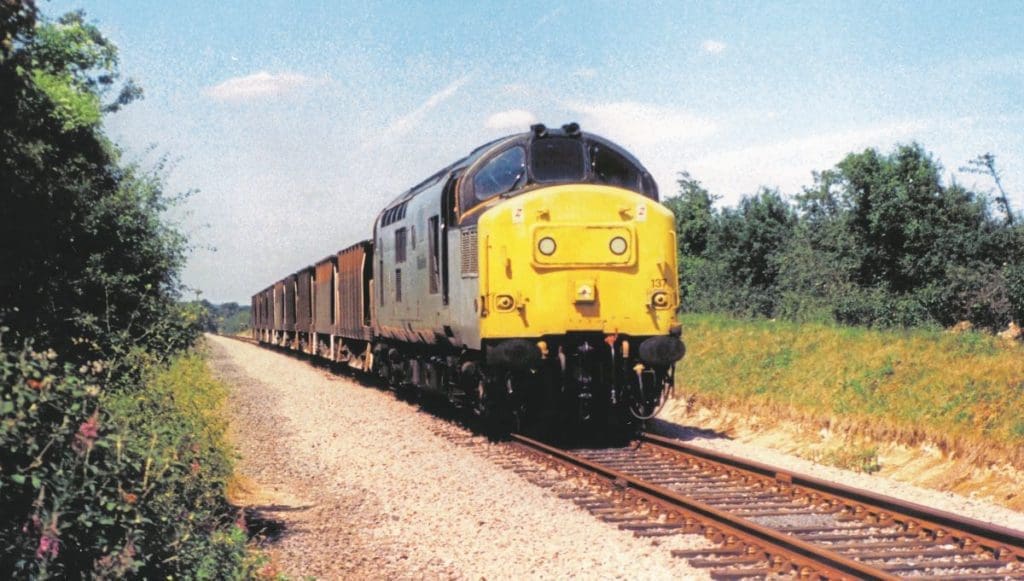 This feature rounds off our in-depth study of the Ludgershall branch and follows on from the history of the route contained in the August 2021 issue of Railways Illustrated and the special trains feature in the December 2021 issue.
Other Special Trains
The Royal Train, with The Queen travelling on board, was stabled on the branch just to the north of Red Post Bridge on the night of February 21/22, 1991, with access to and from the train via the Red Post Lane foot crossing. Armed police were in attendance to protect the train while it was there. On February 22, the train arrived at Platform One at Andover station, hauled by 47834 Firefly, at 09.25 and departed for Gillingham, Dorset, at 09.35 behind 47835 Windsor Castle, with the other Class 47 following just afterwards. Both 47s, which were dedicated to working the Royal Train at the time, were immaculate in InterCity Swallow livery.
Unfortunately, the damp and drizzly weather conditions were far from ideal and pictures of the train did not come out well in the pre-digital age.
Two 4TC sets were removed from storage at Ludgershall on April 7, 1995, and these were taken to the RTC at Derby by 37377 for the removal of the trailer seconds. Now formed as three-carriage sets, they were subsequently worked by 33109 in top-and-tail formation, along with 33116, for filming between Annan and Dumfries in Scotland and later at London Waterloo for the feature film Mission Impossible.
During September 1995, 47298 Pegasus was used for crew training to Ludgershall and return from Eastleigh via Laverstock.
On September 26, 2003, Fragonset Railways moved Network Rail's recently-acquired 73141 and a Mk.1 BG spares van from Derby to Ludgershall using ex-works 31454, which had been finished in a version of InterCity mainline livery. The Class 73 joined NR's other operational EDs which were at Ludgershall.
56078 worked 0Z14 from Eastleigh to Three Bridges on February 18, 2004, passing Shalford at 08.20. It later worked 6Y44, the 10.03 Three Bridges to Ludgershall engineers train, routed via Redhill, Dorking, Guildford and Woking, arriving at Andover some two hours late at around 16.00, before returning to Eastleigh light engine.
GB Railfreight Class 73 quartet 73204/205/ 206/209 worked from Tonbridge Yard to Ludgershall on October 8, 2004, then departed for Old Oak Common Depot three days later, prior to a naming ceremony at London Victoria on October 12. Following the ceremony, they worked a special train to London Liverpool Street, named Janice, Jeanette, Lisa and Alison respectively.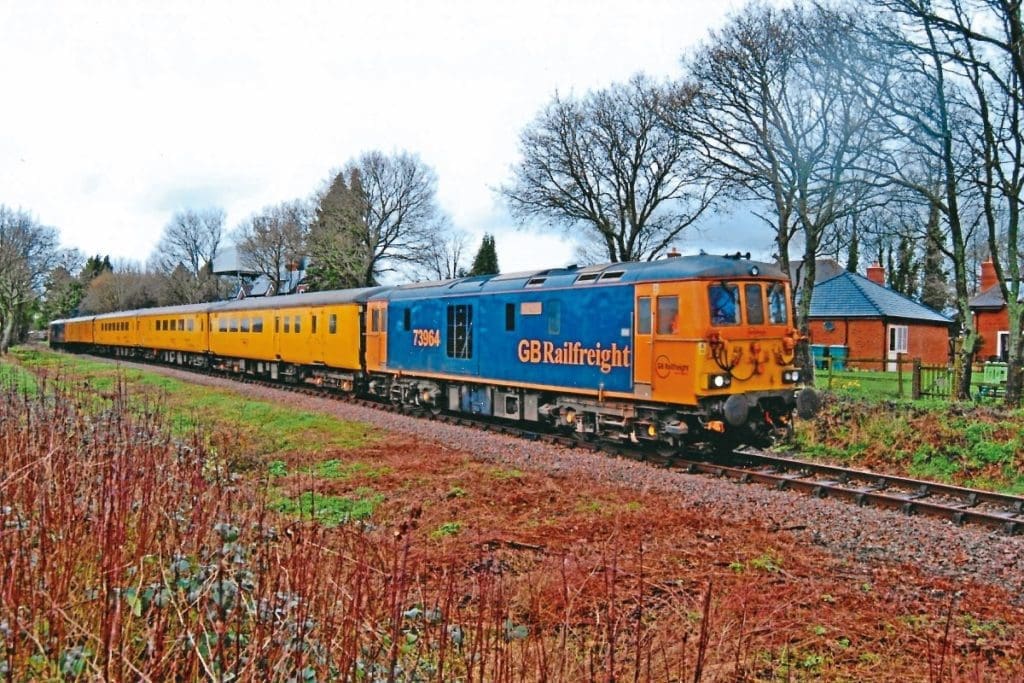 Fragonset's Class 33 'Crompton' 33103 Swordfish worked 6Z53, the 09.00 Salisbury East Yard to Ludgershall, consisting of a single Network Rail MPV, which it pushed up the branch on June 20, 2005.
On March 28, 2019, 66736 Wolverhampton Wanderers was used as a route learner between Bicester and Ludgershall and return.
Weedkilling Trains
Two Hunslet Barclay Class 20s, 20901 Nancy and 20904 Janis, top-and-tailed the Chipmans weedkilling train along the branch on June 14, 1991.
MPV DR98957/98907 worked 6Z04, the 21.40 from Eastleigh to Eastleigh via Redbridge, Chandlers Ford, Salisbury, Ludgershall and Basingstoke, on May 4, 2013.
Ballast Trains
33008 Eastleigh took 10 Seacow wagons up the branch on January 24, 1995, followed by 33025 Sultan with another 10 Seacow wagons a week later on January 31.
A further train of 10 Seacows were worked to Ludgershall on July 11, 2000, hauled by 66106.
Cable Trains
Cable trains ran many times over the years from 2003, for the unloading of empty cable drums and the loading of full drums in a secure environment. For the purpose of this article I don't propose to list them all; just those that did not use the ubiquitous Class 66. The Eastleigh trains were coded 6Y21 and those from Hinksey Yard were 6V39.
73212 and 73213 were towed from Derby to Ludgershall on April 7, 2003, by 47701 Waverley and were then used to demonstrate a cable train.
The Class 47 then remained stored at Ludgershall until it was removed in 2007. The two 73s were removed by 73204 and 73206 on March 31, 2005, to Hither Green.
On October 10, 2003, two-tone green liveried 47488 took four Generator Vans to Ludgershall for use with the cable trains.
Another Class 73 to work a cable train was 73141, which was observed on the branch on New Year's Day, January 1, 2004.
On March 28, 2006, the 6Y51 Hoo Junction to Ludgershall cable train ran with a GB Railfreight combination of 66702 Blue Lightning with 73205 and 73209, arriving at Andover four hours late at 17.45.
In 2009, 73205 and 73209 took a cable train to Ludgershall on May 5, before 67003 likewise took charge of a cable train on July 27, departing light engine to Wembley afterwards.
Finally, 67017 worked a Didcot to Ludgershall cable train, running some 50 minutes late, on October 28.
Another Class 67 to head a Ludgershall cable train was 67016, which ran light on 0Z80, the 08.30 Barton Mill to Ludgershall on September 14, 2010, returning with 6Z80, the Eastleigh cable train.
60043 Yes Tor worked the 12.39 Ludgershall to Eastleigh cable train on November 28, 2013, while on March 12, 2015, 67007 worked a Ludgershall to Hinksey Yard cable train.
Serco Test Trains
Serco Test Trains of four or five coaches were top-and-tailed by locomotives using Class 47s from 2000 and Class 37s from 2004 until 2010 (except for 2005 when Class 67s temporarily took over), before being exclusively worked by Class 73s to date. 47729 and 47765 Ressalder worked a four-coach test train up the branch and return on February 2, 2000, while 47778 Duke of Edinburgh's Award Scheme and 47732 Restormel were rostered to work a Serco train on July 9, 2003.
On July 7, 2004, 37203 and 37057 Viking were in charge of a test train.
In 2005, on January 12, 67014 and 67019 worked a Serco test train on the branch. Another ran on April 12, using 67005 Queen's Messenger and 67025.
In 2007, on January 9, two more DRS machines were in use on the trains, with 37602 and 37608 employed, while on July 18, 37259 and 37218 were entrusted to the train.
On September 7, 2009, Euroscout Unit 999700/701 worked 1Q89, the 04.15 Willesden to Willesden via Ludgershall, Salisbury, Exeter, Salisbury and Willesden.
From 2011 onwards, many Class 73s have worked on the test trains in top-and-tail mode, coded 1Q41, and generally routed from Eastleigh to Eastleigh via Southampton, Portsmouth and Ludgershall. Those known to have appeared on the trains are: 73141 (five times); 73136 (four times); 73138 (three times); 73107 (twice); 73201 (twice); and 73962/963/964/965 (once each). The only train to break the Class 73's dominance was run on December 13, 2011, when 31285 worked 1Q06, the 19.11 Eastleigh to Eastleigh, via Lymington Pier, Ludgershall, Fawley and Southampton.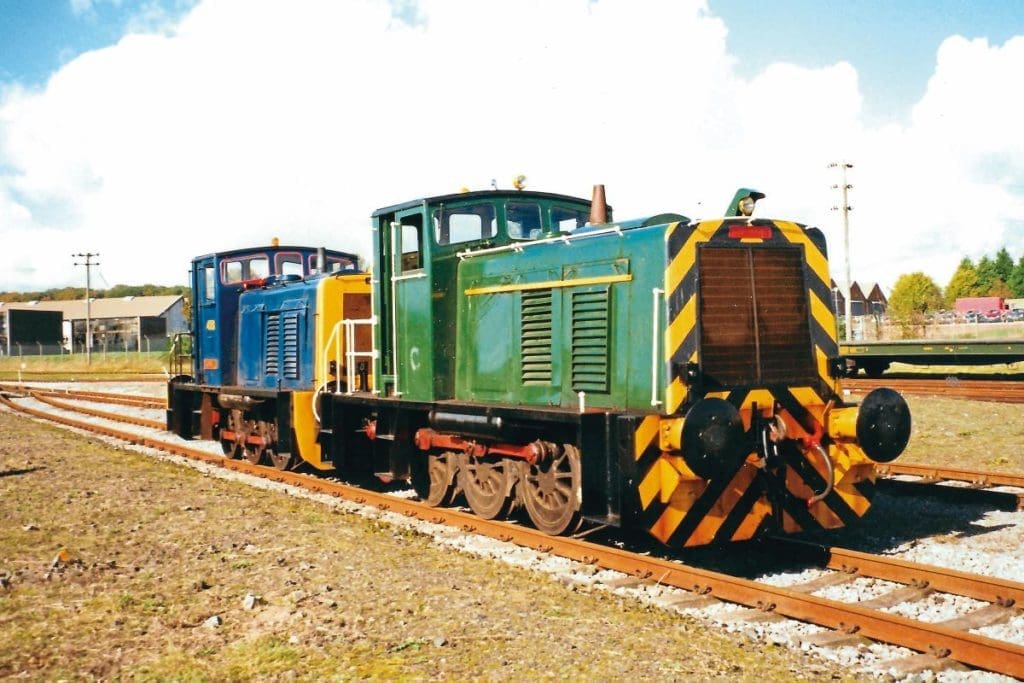 Redundant Stock Storage Trains
For a while, redundant electric stock was stored at Ludgershall before being taken away for component recovery and scrapping. On June 7, 1994, 3-CEP Units 1405 and 1406 were brought from Ramsgate Depot for storage at Ludgershall. Two months later, on August 19, 33109 pushed 4TC units 410 and 417 to Ludgershall for storage from Bournemouth Depot.
33109 returned to the branch again on October 5, 1994, when it was employed to remove 3-CAP units 1401-1404 to Ramsgate for component recovery.
47769 Resolve brought 4-CEP Units 1552, 1583 and 1601 to Ludgershall, arriving at Andover at 16.18 on July 4, 1995.
Meanwhile, 33116 Hertfordshire Railtours moved 4-CEPs, 1568, 1589 and 1801, from Ludgershall to Eastleigh Works on February 14, 1996. Another three 4-CEP units – 1540, 1552 and 1583 – were moved by the same locomotive two weeks later on February 28.
4-CIG Units 1740, 1743 and 1744 were moved to Ludgershall from Worthing Depot via Salisbury, on June 14, 1996.
During May 1997, 4-CIG units 1704, 1740 and 1743, which had been stored at Ludgershall, were restored to traffic.
On April 2, 2004, 33202, 73213, 73212 and 33103 were noted stabled at Ludgershall. At the end of the month, on April 29, 33103 and 33202 ran from Ludgershall to Old Oak Common.
33103 moved inspection saloon 975025 from Ludgershall to Clapham Yard on August 29, 2005.
Five vehicles from the former Doncaster Test Train, which had been stored by FM Rail at Ludgershall, were removed by road to J. Hurst Scrapyard, Hurstbourne, on March 17, 2009, for disposal.
Preserved Locomotives
At one time there were three preserved Class 33s in store in Ludgershall Depot sidings – including the first preserved example, 33034, which was saved by Barry Evans in April 1990.
It was subsequently sold to the 71A Locomotive Group in 1998 and moved to the Swanage Railway in January 2001. 33034 was cut up at Norden in January 2013.
The other two Class 33s to spend time at Ludgershall were 33203 and 33056 Burma Star. 33203 is believed to have been at Ludgershall between 1991 and October 1996, when it was owned by Harry Needle. 33203 was cut up in May 2006 at Newton Stewart, Scotland.
33056 was initially owned by the Type 3 Preservation Society from July 1992. Moved to the Churnet Valley Railway in March 1995, it was eventually cut up in July 2006 by Booths of Rotherham, meaning that none of the three preserved ex-Ludgershall Class 33s survive.
1998 Depot Visit
A joint Industrial Railway Society / World War Two Railway Study Group visit to Ludgershall Depot took place on October 19, 1998. Seven members of each group spent an enjoyable two-and-a-half hours being shown round by WO2 Jez Fordham, of 79 Railway Squadron, based at Marchwood in Hampshire.
After a talk on yard operations, safety procedures, and future army rail developments, members were shown around the sidings, which included many MOD(A) wagons (42 KWB/23 KFA) and four EWS vans. Internal Users on site were three wooden-bodied vans and a 1984-built German ramp wagon, which is still out of gauge and one of only two in the country. Also present in the Tidworth headshunt was 33034 and an FMA freight flat articulated set of three wagons.
The members were then taken on cab rides using blue Ruston 423 Cromwell and green Ruston 428 up to the Tidworth headshunt, the Tidworth Road level crossing, and the southern limit of operations at the end of the former station loop.
Ruston 422 was under repair in the shed. This shunter has been in preservation since 2011 and has recently been sold by The Lavender Line in East Sussex to an unknown buyer and remains in working order.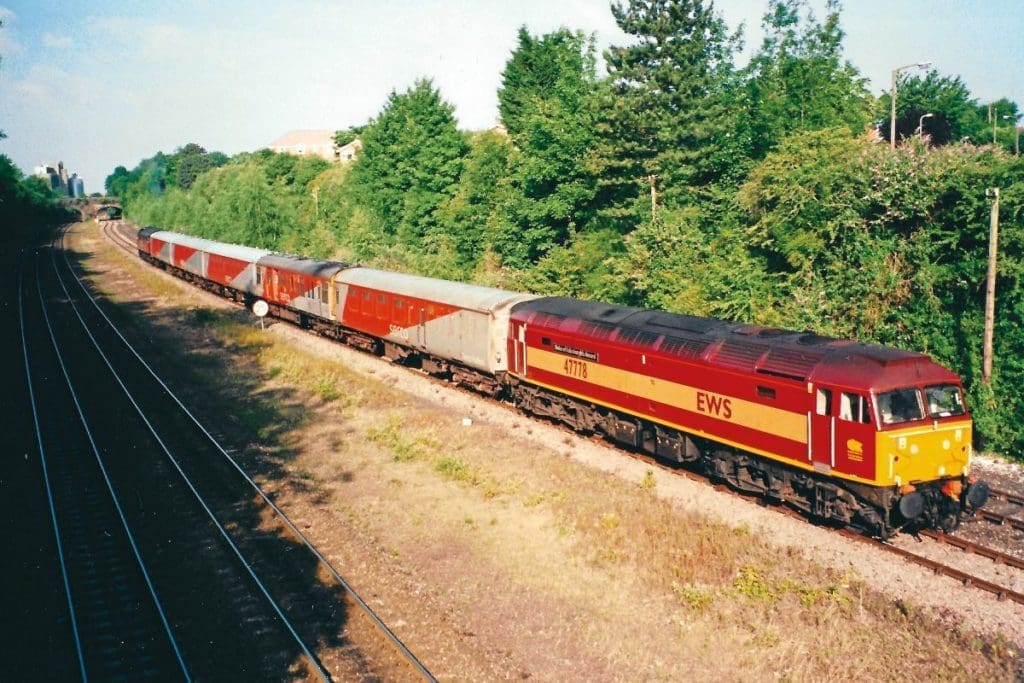 Acknowledgements
I would like to acknowledge the help of Michael Bennett, Stuart Calkin, Simon Lindsell, Dennis Rowland, Roger Smith, Garry Thornton, of the Six Bells Junction website, and The Railway Magazine archive for assistance with the compilation of these features.