Follow our live blog as thousands of rail workers strike over jobs, pay and conditions.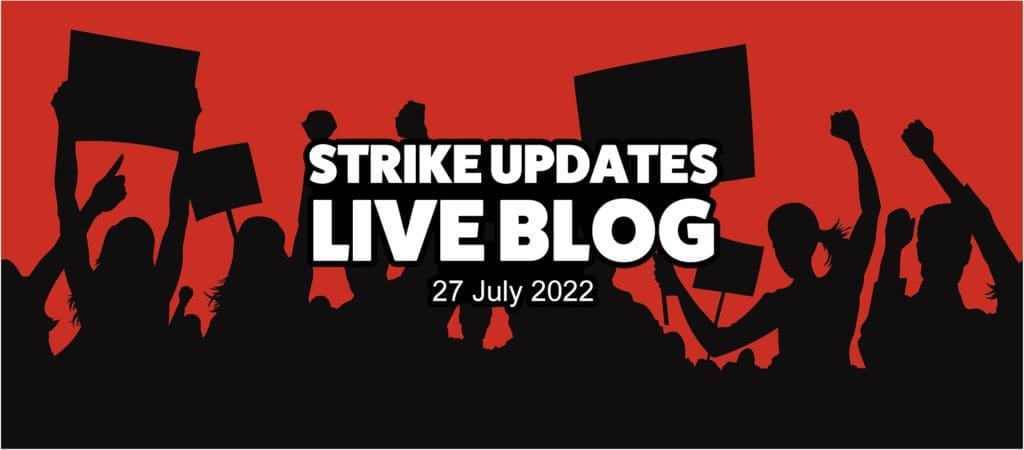 14:00pm
Network Rail workers taking part in strikes have lost around £1,500 each in pay and bonuses, according to the company.
Members of the Rail, Maritime and Transport union (RMT) are striking for the fourth time today in a dispute over pay, jobs and conditions.
Network Rail chief executive Andrew Haines said he thought an agreement had been reached with RMT negotiators two weeks ago that an offer would be put to a ballot of members.
The following day more strikes were announced, he said.
After another meeting last week there was a "very clear belief" that RMT negotiators were going to call off the strikes.
Mr Haines said he continues to believe Network Rail's offer of effectively an 8% pay rise over two years, with extras such as discounted travel and no compulsory redundancies, was a good one.
Those taking part in the strikes have now lost £1,500 in pay and bonuses, according to the company.
11:35am
Rail strikes seem to have had little effect on Gatwick Airport railway station this morning.
Trains towards London Bridge, London Victoria, Three Bridges and Brighton are all currently running on time.
There were significant delays and disruption at the airport station during rail strike action earlier last month.
There is a significantly smaller staff presence on the platforms today compared with the strikes in June, where multiple members of staff were on duty on each platform to guide passengers.
11:25am
Figures from location technology firm TomTom show the level of road congestion in several cities at 9am on Wednesday was up slightly compared with the same time on Tuesday.
They include London and Cardiff (both up three percentage points), Glasgow (up five percentage points), Leeds (up seven percentage points) and Liverpool (up two percentage points).
The figures represent the proportion of additional time required for journeys compared with free-flow conditions.
11:24am
A woman has spoken about feeling "angry" after rail strike action left her autistic son "distressed and upset" that he was not able to make his first day at a new job.
Elizabeth Bolton, from Ascot, Berkshire, is a full-time carer and said her 23-year-old son, Jack, was unable to get a train from Staines to London for his first shift at a pharmacy company.
"He lives on his own, so I had sorted out the tickets and times etc for him – with autism he needs to have plans made," the 51-year-old told the PA news agency.
"He was very distressed… I'm angry that other people's actions can affect innocent people.
"My son is upset and doesn't understand why they're striking… He was nervous about a new job, so I had spent weeks preparing him, but never thought about the trains.
"I personally think (those who are striking) are selfish, although I understand their frustration. It's selfish not to think about other people… There has to be another way to have their say."
11:17am
A woman who was unable to attend her uncle's funeral because of the rail strike disruption said the situation has made her feel "less of a part of my family".
Jen, from Havant, Hampshire, who did not want her last name published, said she was meant to travel from Portsmouth to Spalding in Lincolnshire for the funeral on Wednesday, but strike action has forced her to watch the service remotely.
"I feel like I'm not doing my duty as a family member, but I don't have any control over the situation," the 42-year-old told the PA news agency.
"I just feel further disconnected from my family now, like I'm less of a part of my family.
"I would also like a pay rise in line with inflation but in reality that won't happen. I don't choose to mess around with people's lives because of it.
"And it angers me when they say 'Oh, just work from home' or 'Just travel on a different day' because people don't 'only' travel for trivial reasons. I won't get this day back."
10:49am
Speaking in Edinburgh, Alan, a train guard who did not wish to give his surname, said: "We're all about customers first, safety first.
"We are on strike to save our conditions and the passengers conditions.
"Without half the caterers, lots of who are striking, there wouldn't be that working presence for passengers."
Scottish Greens MSP Ariane Burgess said: "I absolutely wanted to come out and support the picket line.
"The cost-of-living crisis is putting pressure on a lot of people and I think it's absolutely right the rail workers are paid properly for the work they do in Scotland."
10:42am
Emma Davis, 35, has been on the official RMT picket line at Sheffield station since early this morning.
The teacher brought a tray of bacon rolls for strikers to snack on and said many people had shown their support by beeping their horns.
She said: "I think for all workers at the moment we are experiencing the biggest cost-of-living crisis in decades and the rail workers are really leading the way and resisting it and fighting for better conditions for all workers. I think it's really important that all workers are getting behind them."
Emma went on strike over pay in 2015 and is part of the National Education Union.
She added: "It's not just about rail workers, it's about every single section of society feeling the pinch unless you're at the very top and they're getting much richer. I think that's becoming more obvious, that they are profiting off the pandemic and the cost-of-living crisis."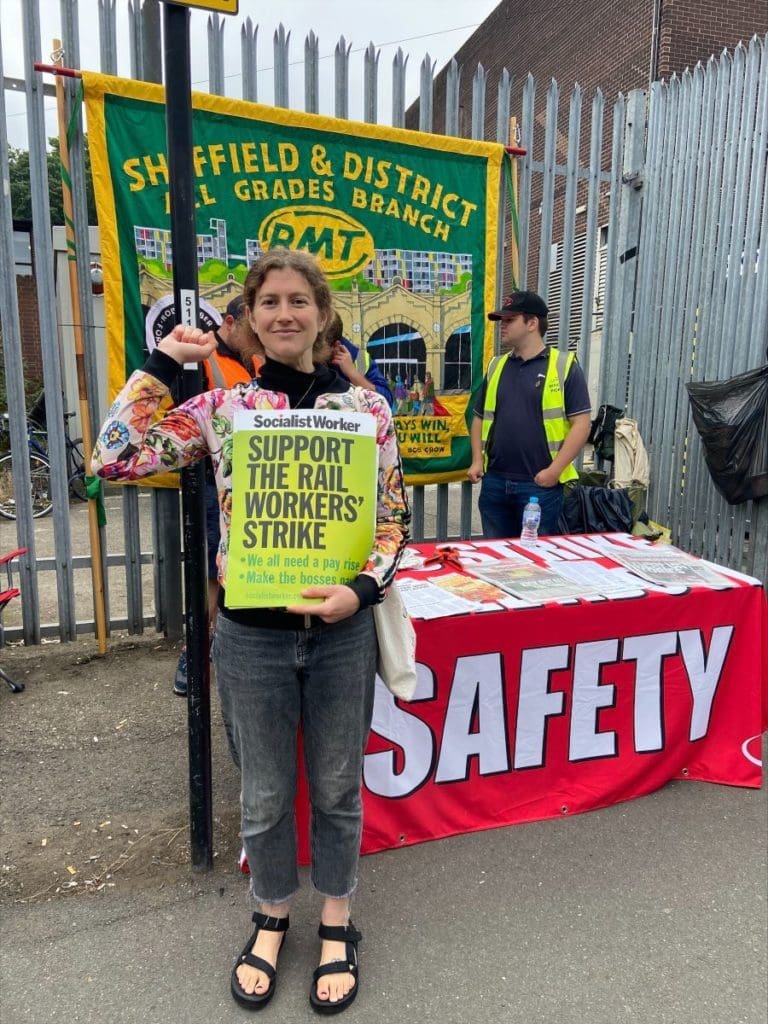 10:09am
Around one-third of all working hours across the rail network are filled by staff working overtime, striking workers in Bristol claim.
Staff on the picket line said the railway is an attractive option for school leavers because they can receive training on the job rather than spend on a degree.
But Maureen, a guard of 32 years' experience on the picket line at Bristol Temple Meads, said rail companies were reluctant to invest in staff.
"They expect one person to do two people's job and they prefer to rely on overtime," she said.
09:49am
Maureen, 56, a guard who has spent 32 years on the railway, was on the picket line at Bristol Temple Meads station.
She was not optimistic that the next prime minister would be open to negotiating with the RMT.
Speaking to the PA news agency: "Liz Truss has already said she wants to raise the (ballot) threshold for a strike from 40% to 50%, and to force workers to give their companies one month rather than two weeks' notice that they are planning to strike."
Her colleague, 31-year-old train driver Jack, said the RMT was willing to sit down at the negotiating table every day if necessary, but was refusing to budge on its insistence that there must be no compulsory redundancies.
Jack said ticket office staff, who are first in line for job losses, had often spent decades on the railway in other roles before being moved to customer service in the later stages of their career.
"They are the first point of contact for anyone coming to the railway for help and you can't replace compassion with a machine, that is one of the reasons the RMT wants to keep that (condition) in place."
09:46am
Jeremy Corbyn, who joined union members on the picket line outside Euston station, said the Government's behaviour amid the strikes had been "utterly extraordinary".
"Their behaviour is utterly extraordinary, and then the two leadership contenders, Rishi Sunak and Liz Truss, are now proposing to make public sector strikes illegal which would of course be contrary to the provisions of the International Labour Organisation convention," he said.
The former Labour leader and now independent MP said he was supporting the strikes because "the degree of poverty pay within the rail industry is huge, and now the levels of job insecurity have grown as well".
"This is a strike to ensure that there is proper negotiation to bring about a resolution to this – so it's a message to Grant Shapps that if you can't help, keep out of the way and allow an agreement to be reached between the unions and the train companies or positively support it."
Mr Corbyn said "there are three Labour MPs here on this picket line, and no doubt there are all over the country".
"I think Members of Parliament represent their constituencies and hear day to day what their constituents want, and they're doing the right thing by being there with the workers in dispute," he added.
09:37am
When asked whether there is any other alternative to the rail strikes, Mick Lynch, general secretary of the RMT union, said: "I could do trial by combat… but I can't think of [another] way at the moment because we've been negotiating for two years.
"But it would be interesting if me and Grant Shapps went head-to-head, if that's not too flippant."
Mr Lynch said that the union received a pay offer from Network Rail last week that was "inadequate to suit the needs of the dispute".
"It's a pay offer over three years, which is nowhere near the rate of inflation.
"And the conditions that they wish to impose on that are not acceptable to the members."
Lynch does not know how long the strikes could go on for.
"I don't know how long they'll go on. When we get a negotiated settlement that our members support then the strikes will cease.
"But at the moment we've got a big gap to bridge, and we're not near that at the moment so the strikes will go on until we get a settlement."
However, Mr Lynch added that the union is not currently "rushing into more strikes".
"We've named some more action during August, and we'll review that when we talk to the companies and we talk to our members… we're determined to get a settlement if we can," he added.
Lynch also said that the strikes continue to be effective even though many commuters are choosing to work from home.
"It's completely effective on our terms. Our members are completely behind the strikes, our picket lines are very vibrant and well-supported, and we're getting a lot of support from the public," he told the PA news agency.
"There's a lot of leisure travel now and people won't be able to use that.
"We don't want to disrupt people, but [the strikes] have an effect on the companies, they're not getting their income and they're being indemnified by the Government to conduct this dispute.
"The Government is giving these companies £20 million a day to run this dispute on their behalf, so it has an effect.
"We don't want to have the effect of disruption on the public – we want a settlement and an agreement that our members support."
09:27am
Victoria Station in London is quieter than usual amid the strikes.
While passengers stream off the scheduled trains, the station is calm.
One commuter quipped that the lack of chaos was down to the fact that "people are just used to it now" after the three days of strikes last month.
They claimed that after a rocky few months for the rail services, people are "used to finding other modes of transport, like buses or taxis".
09:24am
Railway workers on the picket line at Bristol Temple Meads station said there has been little movement from employers or the Government following the first three rounds of strikes.
They said rail companies want to press ahead with driver-only trains, getting rid of guards who are otherwise known as train managers.
Sophie, 31, has spent five years on the railway and two as a guard. She said: "If there's no safety-critical person it puts passengers at risk.
"If there is an accident or an incident, there is no qualified guard to look after passengers."
She said that although most passengers will only notice the guard when they are checking tickets, they have to do six months of training to learn all the details of their routes, such as platform length, access routes and signal points, as well as first aid.
Sophie said that last year she had been forced to evacuate passengers from a carriage where a man was threatening them with a piece of glass.
"The man had got very irate and was threatening other passengers with a broken bottle and threatening to cause harm, and that was my responsibility while we were between stations."
She said she had moved passengers to safety and engaged with the man until they arrived at the next station and British Transport Police could be called.
"I had to put my safety at risk," she added.
09:01am
A few dozen protesters are on the picket line at the main entrance to London Waterloo station.
Some are waving RMT flags, others are selling copies of socialist newspapers and wearing RMT branded T-shirts.
Members of the National Education Union are also there in support.
Ola, one of the pickets, said: "We have been here since 7am. The support from the public has been particularly good."
Two picket lines of RMT and supporting Unison members also stood outside Newcastle Central station, where a reduced service was running.
RMT regional executive committee member for the North East David King said: "The public are 100% behind us – it's absolutely overwhelming the amount of support we've been getting, it's rock solid.
"People understand why we are doing it and they back us because they're the same as us – they're feeling the pinch as well."
08:50am
Transport Secretary Grant Shapps insisted he is a "reasonable guy".
When asked about his plans to restrict strikes, the Cabinet minister told BBC Radio 4's Today programme: "I'm a reasonable guy and I think that people should have the right to withdraw their labour and strike.
"The question is one of proportionality. We have, in this country, a railway that still works, in many cases, on rules and regulations from the '70s, the '60s, the '50s and in one case from 1919. That's where the lack of Sunday working comes from.
"We simply have to modernise it."
He added: "It is perfectly reasonable to withdraw your labour. You shouldn't be able to ballot on one subject, as has happened here, and then widen the strike out to everything else, and then keep it going in a forever strike kind of fashion."
08:33am
Manuel Cortes, general secretary of the Transport Salaried Staffs' Association (TSSA), had this to say: "Our members in Avanti West Coast are out on strike because the deep cost-of-living crisis that the Tories have created is meaning that they're losing purchasing power.
"Of course many of them have not had a pay increase not just this year, not just last year, but up to four years.
"So, clearly, like the rest of the country, they are feeling the pinch and it's just getting to the point where it's unbearable."
He added that workers have had to take matters "into their own hands", but that TSSA members – who are also striking on August 18 and 20 – did not take the decision likely.
"Our members are not known for their militancy… for many of them this is the first time they've taken part in a ballot for industrial action, never mind any kind of industrial action," he said.
"But, like the rest of the country, they're feeling the pinch of the deep cost-of-living crisis the Tories have created."
07:51am
Transport Secretary Grant Shapps predicted that Labour leader Sir Keir Starmer will sack shadow transport minister Sam Tarry after he went on a picket line outside London Euston station.
Mr Shapps told Sky News: "It's clearly in direct defiance of Sir Keir Starmer who told his front bench that they shouldn't be (on picket lines).
"No doubt he'll want to remove him from his job."
7.28am
Shadow transport minister Sam Tarry joined striking workers on the picket line at Euston Station in London, in defiance of Sir Keir Starmer's orders to stay away.
He told ITV's Good Morning Britain: "If we don't make a stand today, people's lives could be lost.
"Some of the lowest-paid workers are on strike today in the rail industry, safety critical workers, workers who make sure our railways get people to work and do so safely.
"It can't be accepted anymore, that people just have to accept that inflation is out of control. The Government's doing nothing on the cost-of-living crisis."
Asked whether he expected to be sacked by Sir Keir, Mr Tarry said: "I've no idea what Keir will decide to do but I know this – if Keir was in government right now, this dispute wouldn't be happening."
He added: "I have absolutely 100% confidence that any Labour Party MP would be in support of striking workers who have given up a day's pay, a week's pay or even longer."