ScotRail passengers will pay off-peak fares on peak time trains in a six-month trial aiming to encourage train travel.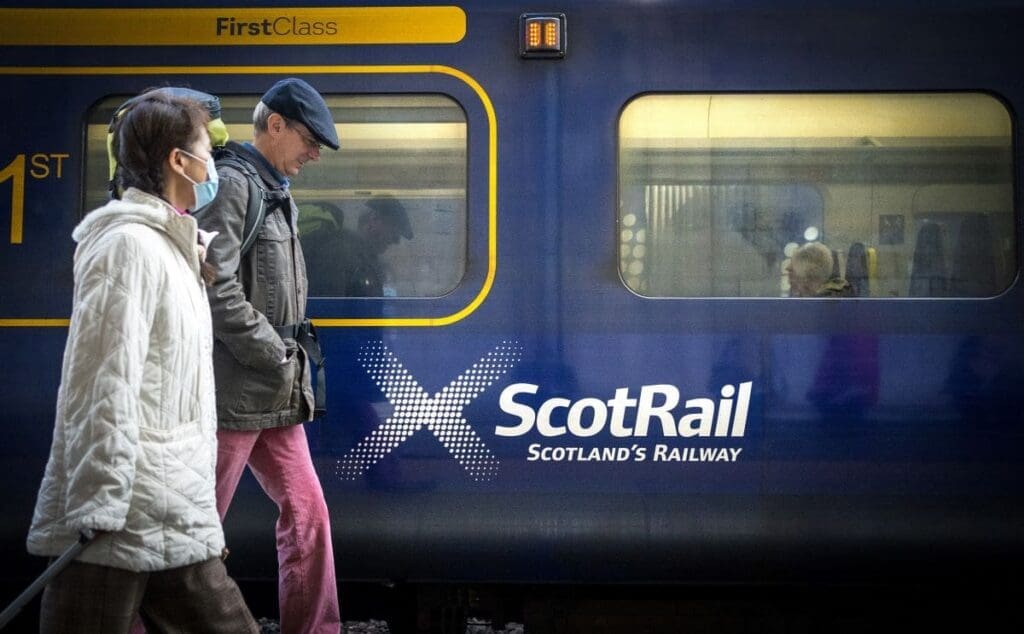 The Scottish Government-funded project will remove peak fares between October 2 and the end of March 2024.
ScotRail said the trial will see massive savings across the country. The fare from Edinburgh to Glasgow via Falkirk High will drop from £28.90 to £14.90, while passengers will be able to travel from Perth to Dundee for £9.90 rather than £14.40 to £9.90. The fare from Glasgow to Stirling will drop from £16.10 to £9.60.
ScotRail said the project will support the Scottish Government's ambition to achieve net zero, providing more people with the opportunity to use trains as their primary form of transport.
Alex Hynes, Scotland's Railway managing director, said: "We want to encourage more people across the country to choose rail travel instead of using the car.
"Everyone at ScotRail is working hard to make sure that this six-month trial will be a success, and we will be monitoring our services and stations daily to see where we have any significant increases in customer journeys.
"Some services may be busier than normal, so customers are advised to plan their journey using the ScotRail website, app, or social media channels.
"We know that cost and simplicity are critical factors for people when they choose how to travel, and we are looking forward to delivering this fantastic fare reduction for our customers."
ScotRail expects that some trains will be busier and will be monitoring services daily.
Additional carriages will be added to services between Edinburgh and Glasgow via Falkirk High, with every service operating with seven or eight carriages. Extra carriages will also be added to services through Glasgow Queen Street Low Level and Glasgow Central Low Level (linking Lanarkshire to Dunbartonshire).
Scotland's Transport Minister Fiona Hyslop said: "Our Programme for Government makes clear our commitment to encourage a shift towards sustainable transport.
"We know that there is much to be done in encouraging people back to rail if we are to achieve our net zero targets.
"This peak fare removal trial is aimed at achieving this by making ticketing simpler with off-peak fares valid all day.
"During the trial period, rail travel will be more affordable and accessible while helping to identify longer-term steps to reduce car use.
"This is an exciting and unique opportunity to encourage more people to choose a safe, reliable, and greener form of public transport."
In a social media post on Sunday, Scotland's First Minister Humza Yousaf said: "From tomorrow, we will effectively abolish peak-time rail fares for 6 months across the network.
"Another benefit of the SNP-led Scottish Government taking Scotrail into public ownership."
There are some routes where no off-peak fare exists because the same price is available at any time of the day, and as such, customers will not see any change in those areas.
ScotRail said that one of the most significant impacts of the pandemic was to radically change the commuter market, with a significant drop in the number of people travelling during the traditional peak times.
That market is only around 70% of what it was before the pandemic.
Scottish Greens transport spokesperson Mark Ruskell MSP said: "This is exactly the kind of bold, groundbreaking move that Scotland needs.
"It is a ticket to fairer, greener railways and will end the two-tier system that penalises people who have no choice about when they need to travel to work or study."
He added: "There are households all over our country who will save hundreds of pounds a year as a result of the action we are taking.
"Every pound saved on a commute is money that can instead go towards heating, eating or other expenses." Kevin Lindsay, Scottish organiser for train drivers' union Aslef, said: "To encourage people on to trains and away from their cars we have to make train travel much more affordable and this is an excellent first step in the right direction."