The National Railway Museum sets out to inspire future generations of engineers and inventors with its latest Wonderlab.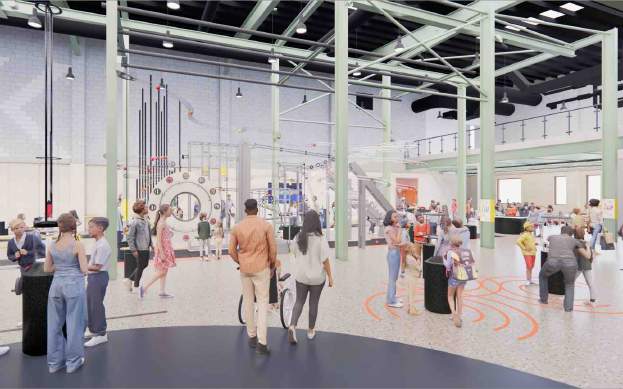 Designed by De Matos Ryan, Wonderlab: The Bramall Gallery at the National Railway Museum in York offers hands-on experimentation and creative exploration sure to excite, inspire and challenge young minds, all whilst bringing awareness to issues of sustainability and energy.
Featuring 18 interactive exhibits, the York-based museum's latest Wonderlab showcases different engineering and railway concepts, with visitors given the opportunity to think like engineers and have a go at designing, building and testing. For example, the 'Feel the Force' exhibit explores design streamlining through physically experiencing aerodynamics.
Although focused on captivating the minds of 7–14-year-olds, the National Railway Museum hopes the open-plan workshop will appeal across the generations.
The exhibits were created through a process of testing and prototyping involving more than 1,300 people, including rail industry experts, education professionals, local community groups and members of the public.
Accessibility is at the core of the design and De Matos Ryan engaged with specialists to ensure that the gallery is welcoming to all.
Article continues below…
Advert
The design scheme explores different forms of 'Motion' evoked by railway engineering, particularly the perception of relative motion in relation to static volumes, surfaces, textures and light.
The scheme draws inspiration from its location in the former locomotive repair workshop. The open-plan gallery is divided up into zones with a family of new 'engineering' timber structures, reminiscent of iconic locomotive fragments to act as screening.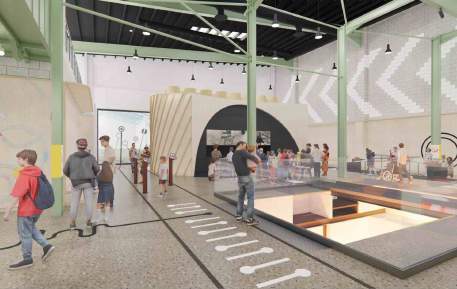 The shape and construction of the structures take inspiration from key exhibits and concepts throughout the museum. The Wallace Learning Space, for example, draws inspiration from the Ellerman Lines steam locomotive to create a surreal and engaging play on scale where visitors metaphorically transform into the size of a steam drop.
Article continues below…
Advert
Larger-scale permanent structures, such as the wheel drop, pits and crane, have been re-activated to form the framework and supporting elements for new content.
De Matos Ryan worked collaboratively with graphic designers Lucienne Roberts +. The gallery will include two unique art installations by artists Pippa Hale and Steve Messam.