Christopher Westcott talks to Wendy Neville, the former head of communications at the London Transport Museum, about how things changed during her 13 years there.
Although unintended, Wendy Neville's time as head of communications at the London Transport Museum has been framed by closure.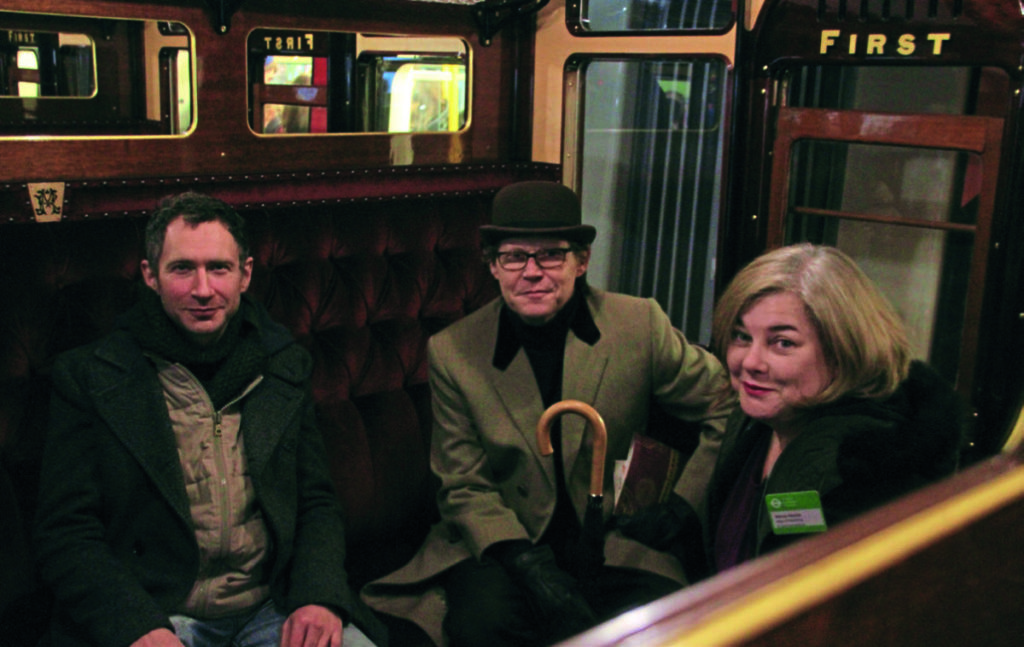 When recruited in 2007, the Covent Garden-based museum was closed to the public as it was coming to the end of a two-year refurbishment; by the time of her retirement on May 15, 2020, the first Covid lockdown was in force and the museum was again closed to the public.
The aim of the 2005-2007 refurbishment was to improve the way the LTM displayed its artefacts, allowing it to tell a more comprehensive and multi-dimensional story of how London's transport system impacted social history and changed society. The museum also wanted to explain how technological changes had created more efficient transport links into the suburbs, which in turn helped London to grow and prosper, as well as explaining the value of design and how transport is relevant to our lives as part of the wider fabric of society.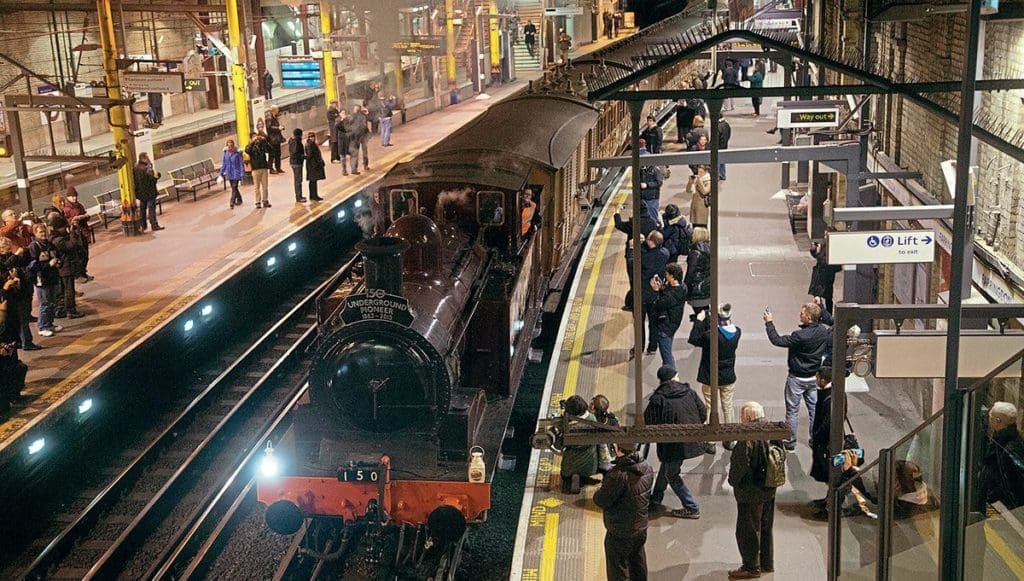 Today's LTM can be traced back to the London General Omnibus Company and its successor London Electric Railway. Both recognised the value of saving heritage vehicles, saving examples of buses and railway stock when they were withdrawn. These were then accepted by the London Passenger Transport Board in 1933 when London's transport system was nationalised.
Prior to exhibits being displayed at the current central London site, which opened in Covent Garden in 1980, they had been housed at several locations – including a former tram depot in Clapham and then at Syon Park (near Kew).
The collection continued to grow through the 1980s and 1990s, with examples including a Leyland Titan bus, a retired 'R' Stock car from the District Line (withdrawn at the end of 1982) and a four-car 1938 Stock unit from the Northern Line.
With its collection ever expanding, and no longer able to beg, steal or borrow space from locations around the transport network, a new building was constructed at Acton. Adjacent to the District Line depot at Ealing Common, this rail-connected site was opened in October 1999 to house more than 300,000 items. It is claimed to be the UK's first museum building designed specifically to be part warehouse, part rail depot, part workshop and part educational space, whilst also being open to the public at certain times of the year.
A NEW BEGINNING
Before 2005, the LTM had operated more informally, being guided by an advisory board. But a new structure was adopted in 2008 as the museum gained charitable status. Much of this progressive change will have been motivated by the museum realising it needed to become more financially self-sufficient.
One of the greatest challenges was how to maintain interest in the museum, pitching its virtues and uniqueness to transport enthusiasts, adult culture seekers and families. With her team and other museum colleagues, Wendy led a tailor-made communications campaign, ensuring that the LTM remained relevant and meaningful to all – most importantly communicating to the public that it was cool to love transport and its heritage.
Meanwhile the museum also needed to focus on its charitable objectives, developing relationships and partnerships with the commercial sector. For example, it has recently worked in partnership with Thameslink on 'Untangling the Tracks', an exhibition that runs through to September this year.
Wendy cites the celebration of the Underground's 150th anniversary in 2013 as the most rewarding part of her career at the LTM. After four years in the planning, the aim was to re-create the inaugural 1863 journey between Paddington and Farringdon.
This saw a special train run with former Metropolitan Railway steam locomotive No. 1 facing east and 1923 electric loco No. 12 Sarah Siddons facing west – the sights, sounds and smells of the early Underground being experienced by enthusiasts and passengers alike. Wendy credits Sir Peter Hendy, the Transport Commissioner at the time, as being the visionary in allowing steam to run once again on the tracks through the tunnels.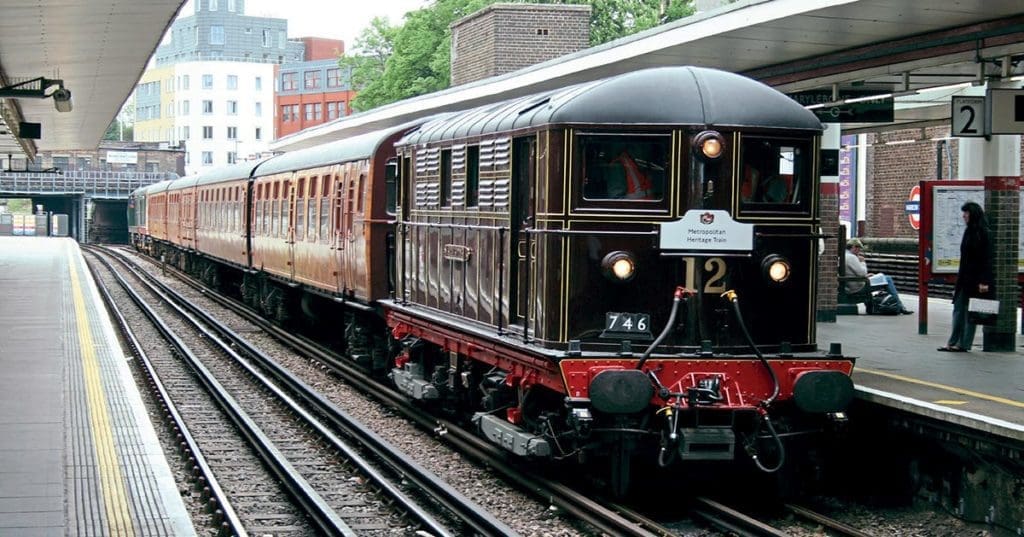 One of the vehicles used was Metropolitan Railway carriage No. 353, which was built in 1892 by Cravens of Sheffield and the only surviving example of a Metropolitan Railway First Class four-wheeled 'Jubilee' carriage. Acquired by London Transport in 1974, the carriage was overhauled and restored, with a new underframe, by Ffestiniog Railway's Boston Lodge facility in 2011/12. The restoration was funded by the Heritage Lottery Fund and London Transport Museum Friends.
Other celebratory events in 2013 saw steam loco No. 1 visit the Epping Ongar Railway as well as also its home at the Buckinghamshire Railway Centre, Quainton. The final special jaunt of the 150th year was the 'Uxbridge Heritage Express', which was planned to take place on December 8 between Harrow-on-the-Hill and Uxbridge. Sadly, however, due to a defect on No. 1 that had been patched up in the 1940s/50s, 'Prairie' steam locomotive No. 5521 (running as fictional LT loco No. L150) had to deputise, with diesel No. 20142 hauling the return services.
EVENTS AND EXHIBITS
Since reopening in 2007, the LTM has tried to host more heritage events whenever possible.
Wendy emphasises that planning takes months or, on occasion, years. But due to the complexities of running heritage vehicles alongside regular passenger services, such events can only be operated during weekends when fewer regular passengers would be impacted. These events would also tend to be hosted towards outer termini, away from central London, and even then operational decisions could change at the last minute. The LTM was therefore often unable to absolutely confirm details until close to the date of the event, and sadly on more than one occasion it had to cancel at the last minute due to technical issues.
The LTM also realised the appeal that disused underground stations offer to new audiences. From the longdisused stations – such as Down Street, South Clapham, Highgate, Aldwych, and Charing Cross – through to Euston's lost tunnels, the museum has enjoyed revealing the past to visitors.
Many of these historic locations are only accessible to visitors able to climb the many stairs, and so a 'Hidden London' exhibition was introduced to the Covent Garden site to give an immersive impression of what it is like to visit a typical abandoned station.
The museum also recognises those that have influenced the development of London Underground. "Frank Pick is one of my historical heroes," says Wendy. "The incredible design heritage of London's transport network is down to him. He was an absolute visionary and began what has become one of the most enduring corporate identities in the world."
A diverse range of other exhibitions and exhibits have covered the growth of Metroland and London's suburbs; the First and the Second World Wars; and posters and design.
Examples include 'Goodbye Piccadilly: From Home Front to Western Front' (May 2014-April 2015), which marked the renovation of a 1914 red B-type bus B2737 into a khaki-coloured 'Battle Bus' to recognise how London buses were requisitioned by the War Department to transport troops during the First World War. 'Night Shift – London after Dark' would have had the Night Tube in mind when it ran between September 2015 and April 2016; 'Poster Girls: A Century of Art and Design' ran between October 2017 and January 2019; with 'Crossrail: The Secret Life of a Megaproject' running from March 2018 to April 22, 2019.
MOVING ON
During Wendy's 13 years there, the museum has become more aware of a need to become financially independent and generate its own income. The museum has already moved on from what listings magazine Time Out once called 'a place for dads and lads.' It has become somewhere where visitors can do more than inspect artefacts or static railway and bus exhibits. Today, it tells a story full of the history of design and technological development, expanding its appeal and accessibility for those who are eager to listen and learn from our past.
Wendy credits a host of museum staff who have helped her tell the story of London's transport. This includes her communications team of Candice Jones, Claudia Pearson and Esther Rush through to museum director Sam Mullins, as well as the assistant director of marketing and development Claire Williamson, Rebecca Whitman in venue hire and events, and Wesley Salton as "a fundraiser par excellence."
There was also Bob Bird, who retired in February 2020 after a long career as the LTM's senior curator. On the engineering side, it was Bob's engineering knowledge and skills that enabled the restoration of heritage vehicles and the ability to take them out onto the tracks and roads.
The Covent Garden site is set to open its doors again on May 17, but the 'Hidden London' tours of disused stations currently remain on hold due to the pandemic – but the LTM hopes to restart these tours later in 2021 as lockdown ends. Any history and transport fans unable to wait until then can see virtual tours online, including the stations at Aldwych, King William Street and Brompton Road, and the Holborn (Kingsway) area tour.
Longer term, there is a strong desire to improve access to the Acton depot in West London – but there is a possible dark cloud on the horizon. Planning permission was granted in January for the first stage of a large housing regeneration project along Bollo Lane, adjacent to Acton Town station. The museum's 2.6-hectare depot site, which is already valued at £320 million, has already been nominated as part of a future housing development proposal. Should this transpire, the Museum will need to relocate.
Just where the next chapter of the museum's history will transport it, time will tell.